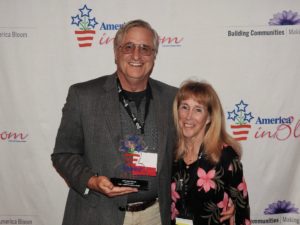 Newtown Square Wins 2018 America in Bloom Awards
Newtown Square in Bloom (NSiB) is very happy to announce that Newtown Square is the winner of the 2018 America in Bloom (AiB) Champion Award for Population Category (10,000 – 14,000 residents) and also Recognition Award for Urban Forestry in this population category. Each award is given to only one member town and is a great honor.
AiB is a national awards program celebrating quality of life in communities of all types and provides a framework for further progress. AiB celebrates and recognizes the great things member towns are doing to "plant pride" in America. This past July, America in Bloom sent a team of two specially trained judges to visit Newtown Square for two days. Escorted by NSiB members, AiB judges reviewed and evaluated the town in seven categories: floral display, landscaping, urban forestry, environmental efforts, celebrating heritage, community vitality, and overall impression. Each category is evaluated in four sectors representing municipal, commercial, residential, and community involvement.
This year's AiB symposium and awards celebration, "Beauty in the Bluegrass", was held in Lexington, Kentucky. Two NSiB members, Joe & Joyce Berry, attended representing Newtown Square and accepting the awards. Joe Berry also gave a presentation regarding NSiB's new series of rustic benches in Newtown Square public parks and historic sites and the group's newest idea for 2019 to build a series of "Fairy Trail Villages" near several playgrounds and along nature trails.
NSiB raises funds for a number of planting projects such as the floral hanging baskets on our town center streets, the Newtown Township Welcome Signs and the St. Albans Circle. Volunteers from many of the Township's residents, organizations and businesses join in to help plant flowers and trees, develop our trail network, clean up parks and streams on Arbor Day, weed and maintain the Drexel Lodge Park Butterfly Garden and help enhance the significance of our historic buildings.
America in Bloom 2017 Symposium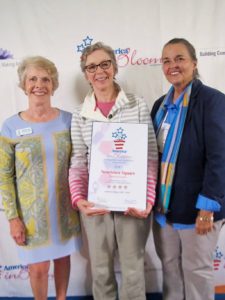 NSiB Vice Chairman, Janet Elliott, accepting the award at the 2017 AiB Symposium. Standing with our 2017 judges.
Other past NSiB events include:
Planting daffodils on West Chester Pike
2016 Newtown Awarded Hanging Basket Award
At the 2016 America in Bloom Annual Symposium held in Arroyo Grande, California, Newtown Square in Bloom's Hanging Baskets were awarded first place for "Best Combination of Plants in Hanging Baskets." This represented the highest hanging basket award of all 44 america in Bloom communities across the USA.
NSiB Chairman, Paul Seligson, accepting the 2016 AiB award