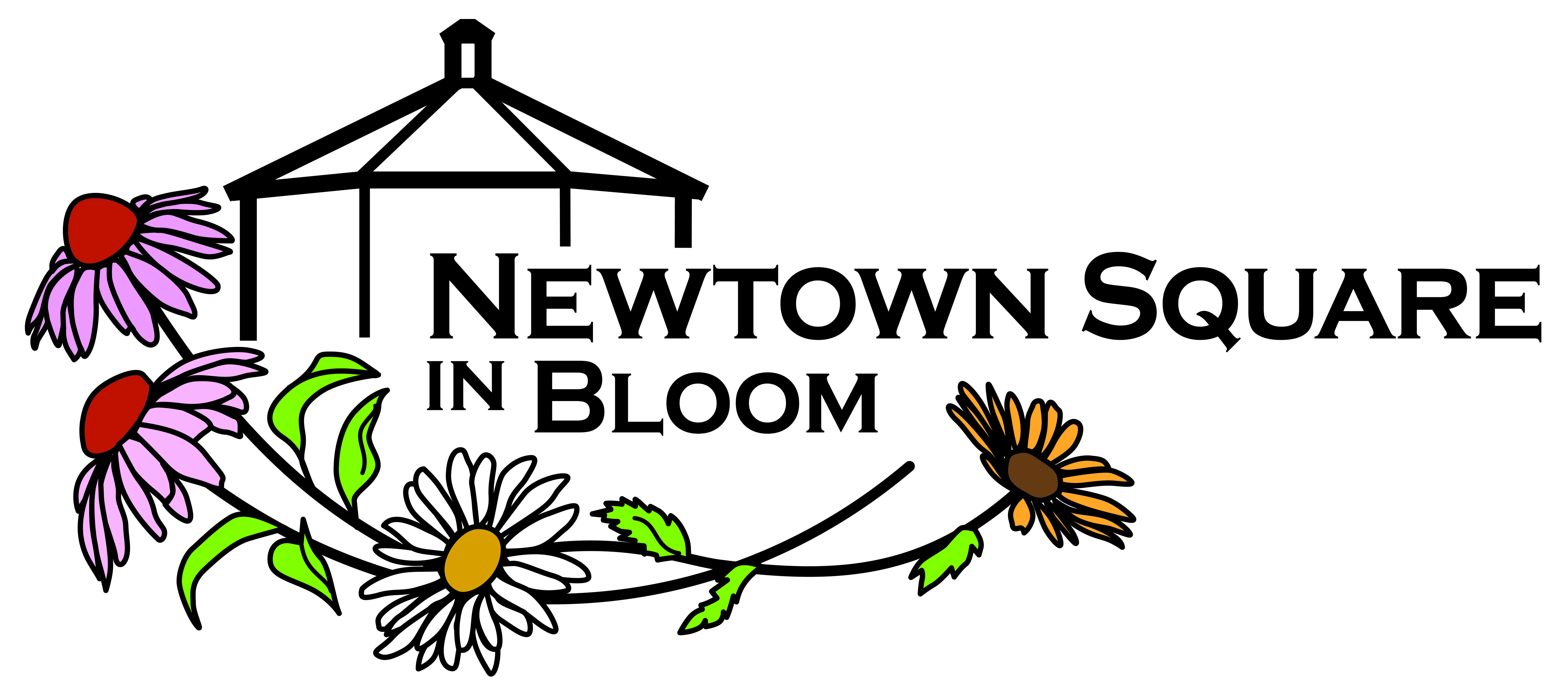 Click on our website "Events" page or "Like" us on Facebook to see how  you can volunteer for our latest event. Check out our "Past Events", too!
You might have noticed that our Newtown Square in Bloom Hanging Baskets are not up this year. Because of Covid-19, it became impossible to water the hanging baskets. The Township vehicle that is used for this purpose can only have one person at a time per social distancing regulation. Unfortunately, it is a two-person job – one driver & one waterer.
As is every year, Mostardi's Nursery has grown our beautiful flower baskets. This year, they will be planted at Newtown Township Welcome Signs, at bus stops, at The Square Tavern (John West House), and soon in front of Paper Mill House. They will also be given to as a Thank You to Hanging Basket Campaign donor, Regency Shopping.
Monthly meetings are open to all Newtown Square residents who wish to join.  With help from our Township government and many Newtown Square volunteer organizations, we achieve our highest potential through efforts in horticulture, heritage preservation, environmental awareness, and community involvement.
Meetings for 2020 are held the third Wednesday, 1:00 pm, at The Newtown Township Building, 209 Bishop Hollow Rd, 1st floor Community Room, Newtown Square, PA.
MEETING DATES: Jan 15, Feb 5 (date change), Mar 18, April 15, May 20, Jun 17, July 15, Aug 19, Sep 16, Oct 21, Nov 18, Dec 16.
Volunteers Welcome!
PLANTING DATES: All are welcome to our Planting Dates. Please like our Facebook page for more information about our plantings –
Wednesday, March 18 – 10 am: Welcome Signs Spring Flower Planting
Saturday, April 4 – 10 am: Butterfly Garden Clean Up, Drexel Lodge Park
Saturday, April 18 & possibly Sunday, April 19 – 9 am: Pop Up Garden Installation, Newtown Township Building
Saturday, April 18 – 9 am: DCVA Stream Clean Up, Brookside Park, Bryn Mawr Ave.
Tuesday, April 22 – 6-8 pm: Pop Up Garden Evening Event, Newtown Township Building "Waterways, Walkways and Wildlife" Presentations: Vince Smith, Audubon Society; Cindy Mehallow, Master Watershed Steward
Saturday, April 25 – 8:30 – 11:30 am: Arbor Day Tree Planting, location TBD
Saturday, April 25 – 11:00 – 12 noon: NSiB Adopt-A-Highway Clean-Up. Location: West Chester Pike from Bishop Hollow Rd to Valley View Lane. 
Sunday, April 26 – 10 am: Greer Park Clean-up
Tuesday,  April 28 – 7 am: Hanging Baskets Go Up
Thursday, April 30 – 10 am: St Albans Circle, Planters & Bus Stops
Saturday, May 2 – 8:30 – 11:30 am: Rain Garden Planting, Newtown Township Building
Wednesday, May 6 – 6 – 8 pm: Pop Up Garden Closing Event, Newtown Township Building Birds, Books and Bites – Refreshments & Plant giveaway
Thursday, May 7 – 9-10 am: St Albans Circle, Pop Up Garden Installation
Saturday, May 9 – 9 – 10 am: Rain Garden Planting, Little League Field
Monday, May 18 – 9-10 am: Pop Up Garden Removal, Newtown Township Building
Thursday, May 21 – 9 am: Welcome Signs/Bus Stops Spring Flowers
Saturday, May 23 – 9 am: Drexel Lodge Park Butterfly Garden Clean-Up & Replanting. Pull vines out of Azalea Bushes
Thursday, June 18 – 10 am: Welcome Signs Summer Clean Up & weeding
Wednesday, August 23 – 10 am: Welcome Signs Fall Clean-up
Thursday, August 27 – 10 am:  Butterfly Garden Clean-up
Saturday, October 3 – 10 am: Bus Stops/St Albans Fall Plantings
Thursday, November 5 – 11 am: Welcome Signs & Bus Stops Late Fall Plantings
NSiB raises funds for a number of planting projects such as the floral hanging baskets on our town center streets, the Newtown Township Welcome Signs and the St. Albans Circle. Volunteers from many of the Township's organizations and businesses join in to help plant flowers and trees, develop our trail network, clean up parks and streams on Arbor Day, weed and maintain the Drexel Lodge Park Butterfly Garden and help enhance the significance of our historic buildings.

Please consider donating to support our projects! Click on the "Donate" page on our main menu.                  Thank you!
We are In Bloom
In 2015, Newtown Square joined the national organization, America in Bloom, and has started its own chapter, Newtown Square in Bloom. In its first year of membership, Newtown Square was awarded a Special Award from America in Bloom for its Hanging Basket Container Displays and Special Mention for Heritage Preservation.
Newtown Square in Bloom seeks to:
• bolster civic pride through planting trees, bushes, and floral displays; as well as developing other environmental and lifestyle enhancements; • involve all aspects of Newtown Square communities including residents, businesses, municipal and non-profit entities in planting & beautifying Newtown Square;   •  strengthen our sense of community with volunteer participation from all different age populations from school age children to older adults.
America in Bloom is a national awards program unlike any other. It celebrates quality of life in communities of all types and provides a framework for further progress. AIB celebrates and recognizes the great things our participants are doing to "plant pride" in America.
Newtown Square is grouped by population category which varies each year depending on the number of entries. America in Bloom sends a team of two specially trained judges to visit each entrant; spending up to two days touring with you, meeting leaders and volunteers while you showcase your efforts. The judges provide a detailed written evaluation rating our Township by six categories.
Learn More About the Six Criteria