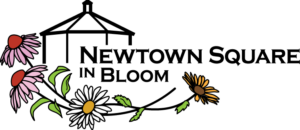 NEW! ONLINE CREDIT CARD DONATIONS
You can help continue our Newtown Square Hanging Basket & Floral Display Program! Our beautiful baskets and plantings are funded solely by donations from the public and local businesses. Now, we are planning our 2023 floral displays, but NEED YOUR HELP!  Click on "Donate" on the menu bar and help Newtown Square be beautiful. 
Announcing: Donation to NSiB from Newtown Township's Environmental Advisory Council (EAC)
In honor of Bruce Killen for his steadfast leadership on the Newtown Township Environmental Advisory Council, moving us toward a more sustainable future.

Members of the EAC: Sheila O'Sullivan-Feeney , Joe Pinto, Bruce Killen, Janet Krevenas, Dane Shoemaker. (Cindy Mehallow attended virtually)
2023 SPRING PLANTING DATES: 
To Be Announced in Early 2023!
All are welcome to our Planting Dates. Please like our Facebook page for more information about our plantings. Volunteers Welcome!
2023 ZOOM MEETING DATES: Wednesdays, 1:00 pm, January 18, February 15, and March 15, April 19, May 17, June 14, July 19, August 1t6, September 13, October 18, November 15, and December 14. 
ALL ARE WELCOME
To receive our Zoom link for these meetings, email Paul at [email protected]
YOU MADE NEWTOWN SQUARE BLOOM THIS PAST YEAR!!
Read below about Newtown Square's volunteer beautification & environmental plans accomplished for 2021. 
GATHER IN THE CIRCLE (GitC) was formed last year to imagine ways of making the St. Albans Circle area a more vibrant, walkable, public gathering place. The GitC mission is to enhance the sense of community in Newtown Square and to benefit the local businesses with projects such as their Farmer's Market held weekly on Friday afternoons, St. Alban's Episcopal Church, 3625 Chapel Road, Newtown Square   #newtownsquarefarmersmarket
NEWTOWN SQUARE IN BLOOM (NSiB) was unable to pursue a number of its proposed 2020 projects due to Covid-19, like the beloved Hanging Baskets that will unfortunately not return until 2022. However, NSiB, together with other dedicated community groups, is moving forward to bring you many impactful projects that will "blossom" in autumn 2021 and beyond.
NSiB Community Garden Project will be individual plots of land rented for a modest annual fee where people gather together to grow fresh veggies and flowers in an area complete with deer fencing! Community gardens turn ugly, unused spaces into green, productive gardens. Click on the following link to take a survey about this project: Interest in new Community Garden (google.com)
NSiB Tree Streetscape Program has received a generous donation from Newtown Square-based company, Boiron, enabling NSiB to purchase 26 hardy trees and have them installed along Route 252. The tree species selected, Ivory Silk Lilac, European Hornbeam, and Japanese Cherry, are known for their ability to withstand draught, road salt, automobile exhaust and pollution.
NSiB Floral Displays As is every year, Mostardi Nursery has grown our beautiful flower baskets. This year, they were planted at Newtown Township Welcome Signs, at bus stops, at The Square Tavern (John West House), Strafford School and in front of Paper Mill House.
NSiB Pollinator Pathways is similar to a county-wide public trail network that connect walking trails from one town to another. NSiB will organize events to help residents create native plant gardens that provide pollinator appeal, human enjoyment, drought tolerance and ease of care.
NEWTOWN TOWNSHIP ENVIRONMENTAL ADVISORY COUNCIL (EAC) COMMUNITY PROJECTS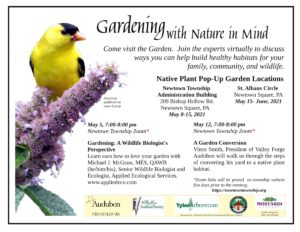 EAC Pop Up Garden In celebration of International Migratory Bird Day, May 8, a demonstration garden of Native Plants at the Newtown Township Building was installed bringing attention to the critical role of native plants in supporting birds, pollinators and our local environment. Several webinars were held by local Master Gardeners on how to develop Pocket Meadows, convert yards or construct colorful containers that support butterflies, birds and native bees. The Pop Up Garden was moved to St. Albans Circle for a temporary display in May.
EAC Rain Gardens EAC and Newtown Square in Bloom worked this year with the Department of Public Works to implement demonstration rain gardens at the Township Building and Little League Field. Rain gardens are planted with attractive, hardy perennials, woody shrubs, and small trees. Rain gardens help reduce and control flooding by decreasing the rate and volume of stormwater runoff.
EAC Bird Walk Newtown Township residents and the public were invited to participate in an exciting and highly instructional Bird Walk at Garrett Williamson in May, partnering with Win Shafer, Bird Conservation Committee member and avid birder, as our guide. Novices and advanced birders alike enjoyed this informative walk led by experts in the Philadelphia and Delaware County birding communities.
Newtown Square in Bloom, a 501(c)(3) tax deductible organization, raises funds and accepts donations from the public for plants and street trees. Go to the Donate online page of this website or mail in your donation today! Thank you!
Volunteers from many of the Township's residents, organizations and businesses join in to help plant flowers and trees, develop our trail network, clean up parks and streams on Arbor Day, weed and maintain the Drexel Lodge Park Butterfly Garden and help enhance the significance of our historic buildings. To learn more, "Like" the Newtown Square in Bloom Facebook page and check out the Newtown Square in Bloom website: newtownsquareinbloom.com.
NSiB raises funds for a number of planting projects such as the floral hanging baskets on our town center streets, the Newtown Township Welcome Signs and the St. Albans Circle. Volunteers from many of the Township's organizations and businesses join in to help plant flowers and trees, develop our trail network, clean up parks and streams on Arbor Day, weed and maintain the Drexel Lodge Park Butterfly Garden and help enhance the significance of our historic buildings.

We are In Bloom
In 2015, Newtown Square joined the national organization, America in Bloom, and has started its own chapter, Newtown Square in Bloom. In its first year of membership, Newtown Square was awarded a Special Award from America in Bloom for its Hanging Basket Container Displays and Special Mention for Heritage Preservation.
Newtown Square in Bloom seeks to:
• bolster civic pride through planting trees, bushes, and floral displays; as well as developing other environmental and lifestyle enhancements; • involve all aspects of Newtown Square communities including residents, businesses, municipal and non-profit entities in planting & beautifying Newtown Square;   •  strengthen our sense of community with volunteer participation from all different age populations from school age children to older adults.
America in Bloom is a national awards program unlike any other. It celebrates quality of life in communities of all types and provides a framework for further progress. AIB celebrates and recognizes the great things our participants are doing to "plant pride" in America.
Newtown Square is grouped by population category which varies each year depending on the number of entries. America in Bloom sends a team of two specially trained judges to visit each entrant; spending up to two days touring with you, meeting leaders and volunteers while you showcase your efforts. The judges provide a detailed written evaluation rating our Township by six categories.
Learn More About the Six Criteria